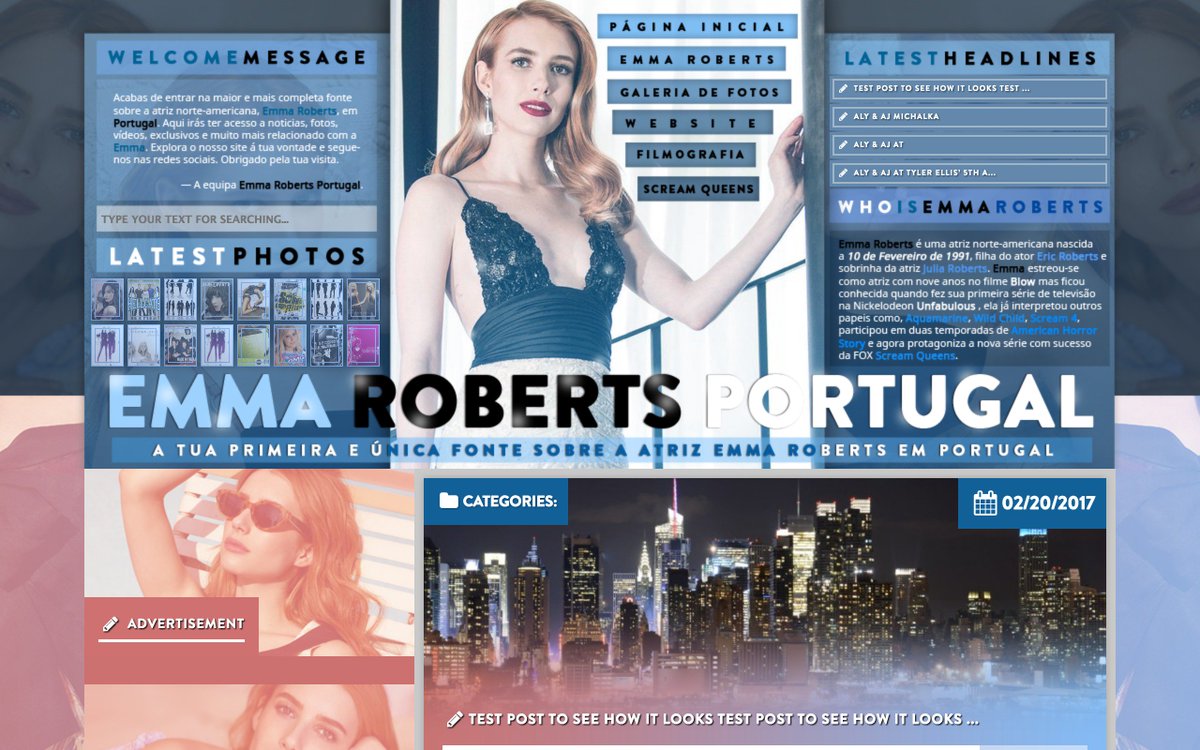 Emma Roberts Portugal, your first and only source about the talented actress Emma Roberts in Portugal, has a brand new layout on the site and photo gallery.
Both layouts were made by the talented designer ESTRELLA DESIGN, who i thank so much for the hard work and dedication in it.
I hope you guys enjoy these new layouts and feel free to check out anytime you want :)
EMMA ROBERTS PORTUGAL  PHOTO GALLERY TWITTER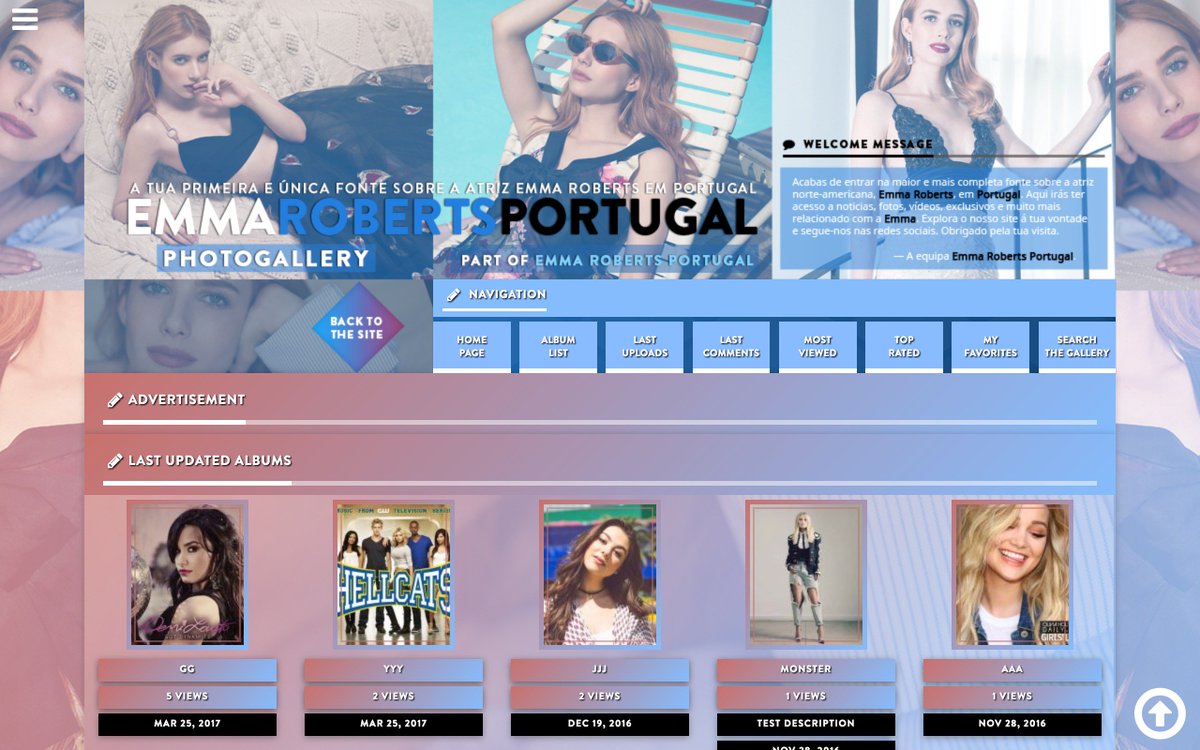 Hello everyone! Lucy Hale Hungary has a brand new layout on the main site. Check it out and let us know what you think.
Hi everyone! Priyanka Chopra France has a brand new look with a photoshoot of Priyanka from 2016, thanks to extrasflaunt & Lilianne!
Feel free to visit my website, hope you enjoy!
Hello everyone! Over the last few weeks, I have re-vamped Influence Designs completely to offer an amazing, easy experience for you all here. The most exciting part of this re-vamp is that I am now making free WordPress themes! I am almost done with school – I am pursuing a degree in Web Development – and I need to focus on practicing and adding more designs to my portfolio.
If you would like to order from me, please visit the order page! I can't wait to get started on these themes for you guys!
Dear users,
we are receiving more and more emails from you regarding websites which have been infected. As far as we know, it is a global issue which also affects other hosts. The issue only concerns these websites which have not yet upgraded their WordPress scripts to version 4.7.1. This means that all WordPress scripts older than this version are vulnerable to hacking.
We do kindly ask you to upgrade all your WordPress scripts at your accounts. If your website has already been infected, please follow the steps below or simply contact us. To check whether your website has been infected or not, go to Google and type your url. If you see Japanese signs instead of a website description, this means that your website has been infected.
How to remove a virus from your website?
1. Download the latest version of WordPress > https://wordpress.org/latest.zip and unzip it at your computer.
2. Remove "wp-admin" and "wp-includes" directories from your FTP account.
3. Upload all files from the WordPress script downloaded (refer to step 1) and overwrite all files, if necessary.
4. Remove the "sitemap.xml" file from the "public_html" directory and a Google verification file (e.g. google485732784375843534.html).
5. Remove a directory marked by the series of signs (e.g. 520dce8b905e) from your "wp-content/plugins" directory.
6. Edit the ".htaccess" file (you can find it in "public_html") and remove all information from it. Afterwards, paste the code available at this website: https://codex.wordpress.org/htaccess (basic WP).
7. Log into your WordPress and change passwords for all administrators.
8. Install the following plugins: Anti-Malware Security and Brute-Force Firewall. Scan your "wp-content" directory. The plugin should detect all infected functions.php file for each theme. Clean the files with the plugin.
9. Log into Google Webmasters > Users and service owners and remove the email address which does not belong to you (e.g. pochrz551469@gmail.com). To do that, go to Manage service owners > Cancel verification.
10. Remove sitemap added by a virus (go to Indexing > Sites Map).
11. Generate a new sitemap (e.g. you can do that at https://www.xml-sitemaps.com) and add it to Google Webmasters. To fasten the indexation in Google, download it as Google (section: Indexing).
If you come across any difficulties with upgrading your WordPress scripts or you noticed suspicious files, simply e-mail us. Thank you.
Posted on: January 25, 2017 | Filed Under:
WordPress
| Author: Staff
Hi everyone
I am please to announce that I have finally got my website open for the wonderful Ross Lynch who was best known for Austin Ally and Teen Beach Movie plus as a lead singer and song writer for his own band R5.
I am looking for affiliates so get applying here on the Guest Book section as the affiliation form doesn't appear to work at the moment.
Here is what my website and gallery looks like so take a look around:
So I'll look forward in receiving your responds for the affiliate sections. Here is a massive thank you to Flaunt nu for getting my site up in swift responds and thanks to Blown Design for his amazing WP theme and Soy Luna Daily for her gallery theme.
Love from the:
Webmistress.
Dear users,
recently, we have been noticing numerous hacks into WordPress scripts which have not been upgraded to version 4.7. We kindly ask you all to upgrade your WordPress scripts to the newest version as soon as possible.
If you have some WordPress installations which you do not use anymore, please delete them.
Do not forget to use passwords which are difficult to guess.
Each user should also install some brute force plugin (e.g. limited login attempts) which prevents WordPress scripts from being hacked.
If you come across any difficulties with upgrading your WordPress scripts or you noticed suspicious files, simply e-mail us. Thank you.
Posted on: December 28, 2016 | Filed Under:
WordPress
| Author: Staff
Hey, we have new wordpress and coppermine designs at my fansite ritaorafrance.flaunt.nu. Check it out:

Adoring Kristen Stewart has a brand new look ! For the website's 10th version, I would like to thank Headers_Online for designing these gorgeous headers, and MonicaNDesign for designing the theme we are using.

Adoring Kristen Stewart stays your best source on anything Kristen Stewart related, with all her latest news and pictures. The gallery always expanding, we have over 400 000 pictures now ! Hoping to see you very soon !
KOURTNEY KARDASHIAN DAILY, your ultimate source for everything about Kourtney Kardashian has a brand NEW FRESH layout. Here you will find the latest news, photos and many more!
We are the only and largest fansite for the eldest Kardashian sister, with more then 200.000 photos in our gallery, AND we are celebrating 5 years online this year!
We are also looking for affiliates! If you want to be affiliates with us just fill out the form here.