Autumn is here and for the most of us school is here too or will be here very very soon. So to make this fall season a bit easier WorkingTitle Designs has a 50% off sale on every order in the month of september!
This means that you can get a WordPress theme for as cheap as $6 and a Coppermine theme for $4. And if you feel like ordering both you can get that combo for only $8!
Posted on: September 2, 2014 | Filed Under:
Uncategorized
| Author: Simi

Michael Malarkey Network, your first fansite dedicated to the talented actor and singer Michael Malarkey best known as Enzo in the CW series The Vampire Diaries, is now open and looking for new affiliates so feel free to apply HERE. Thank you for taking the time to view this site and hope see you soon.
Posted on: August 27, 2014 | Filed Under:
Uncategorized
| Author: MMalarkey
The most popular Pixie Lott fansite got a brand new look, called "Raise Up." The new design was inspired by Pixie Lott's song; it's dramatic and dark but playful and light. I hope you will enjoy the new theme!
Follow the site on Twitter, Facebook and Instagram if you don't miss out the hottest Pixie Lott news.
Plus, we're looking for elite affiliates, so don't hestitate to apply!
Posted on: August 25, 2014 | Filed Under:
Uncategorized
| Author: prezli
Hello all! We are very excited to launch our fansite dedicated to Abel Tesfaye who is better known by his stage name, "The Weeknd." We worked very hard to give you an impressing first layout for you viewers. We are also very excited that TheWeekndOnline.com is also mobile friendly and has it's own version for mobile device! If you'd like to see the full layout, check us out on a desktop or if you haven't already you can check us out on your phone! Please spread the word on our fansite for The Weeknd – We will have plenty of photos added to our gallery daily, all the latest news on The Weeknd and keep you updated on tour dates and info related to The Weeknd. So bookmark us and give us a visit! Enjoy our fansite. We are also looking for High Quality Elite & Top affiliates!
– TheWeekndOnline.com – VISIT WEBSITE!
Posted on: August 21, 2014 | Filed Under:
Uncategorized
| Author: UOrtiz
WordPress 3.9.2 is now available as a security release for all previous versions. We strongly encourage you to update your sites immediately.
This release fixes a possible denial of service issue in PHP's XML processing, reported by Nir Goldshlager of the Salesforce.com Product Security Team. It was fixed by Michael Adams and Andrew Nacin of the WordPress security team and David Rothstein of the Drupal security team.
WordPress 3.9.2 also contains other security changes:
– Fixes a possible but unlikely code execution when processing widgets (WordPress is not affected by default), discovered by Alex Concha of the WordPress security team.
– Prevents information disclosure via XML entity attacks in the external GetID3 library, reported by Ivan Novikov of ONSec.
– Adds protections against brute attacks against CSRF tokens, reported by David Tomaschik of the Google Security Team.
– Contains some additional security hardening, like preventing cross-site scripting that could be triggered only by administrators.
Download WordPress 3.9.2 or venture over to Dashboard → Updates and simply click "Update Now".
Sites that support automatic background updates will be updated to WordPress 3.9.2 within 12 hours. (If you are still on WordPress 3.8.3 or 3.7.3, you will also be updated to 3.8.4 or 3.7.4. We don't support older versions, so please update to 3.9.2 for the latest and greatest.)
Posted on: August 7, 2014 | Filed Under:
Uncategorized
| Author: Staff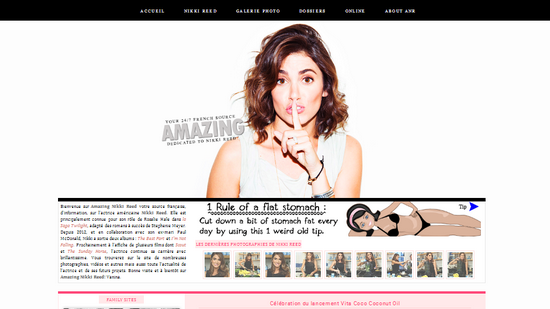 Your french source dedicated to Nikki Reed has a new look. Hope that you will enjoy the new theme on Amazing Nikki Reed. Feel free to visit our gallery (the largest gallery on the web with 15.000 hight quality pictures) and the latest news on Nikki Reed. Thank for visiting us and be sure to return again.
Posted on: August 7, 2014 | Filed Under:
Uncategorized
| Author: Vanina
Hello and welcome to The Lorde World, the new source for everything, Lorde! I decided to launch this fan site because I really love Lorde and feel the need to provide the fellow fans with the latest on our idol. I'm really excited about launching this fan site. If you have any question(s), make sure to leave a comment. If you own a fan site and want to be an elite, please visit this page. Make sure to follow us on Twitter and Facebook to keep up with the updates. Please bookmark us and enjoy the site, take a look around. Thank you for visiting.
Posted on: July 7, 2014 | Filed Under:
Uncategorized
| Author: Mac
Hello everyone, my website world of Rihanna is finally open.
You can find us on World Of Rihanna
Posted on: June 20, 2014 | Filed Under:
Uncategorized
| Author: anavk
After about 8 months WorkingTitle Designs has a brand new wordpress layout.
Make sure to check out the site and my portfolio as well (:
And to celebrate this (really really) late half year 'anniversary' I have a discount for flaunt.nu news readers. If you order in the month of June and write "Flaunt news" in the message you'll get 20% off all orders!
Posted on: June 16, 2014 | Filed Under:
Uncategorized
| Author: Simi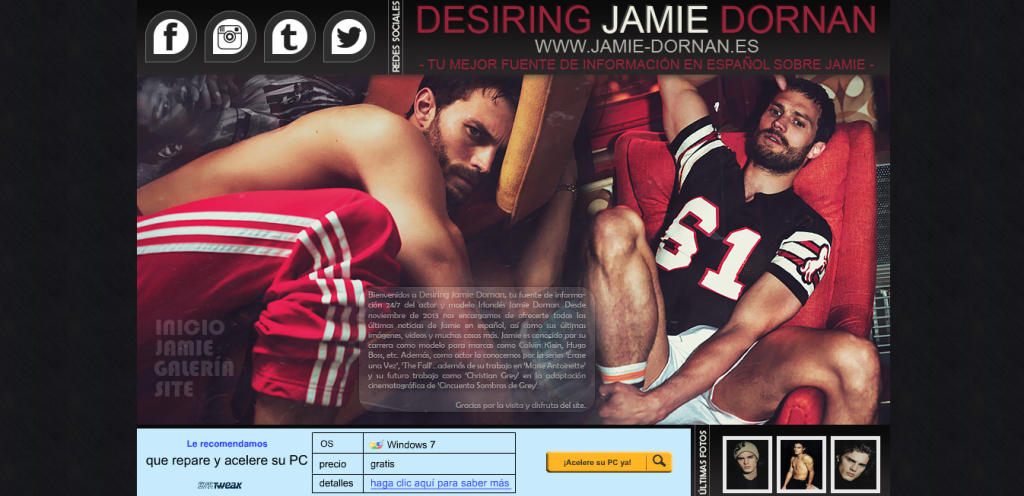 The Spanish fansite about the actor/model Jamie Dornan has new look. Check it out and visit us in our fansite and gallery.
www.jamie-dornan.es