Hello again,i just change the theme because i will want to post again.Tomorrow i will update the gallery.Come and visit https://www.kirakosarin.sosugary.com/ and don't forget to follow me on twitter at @kirakosarinall.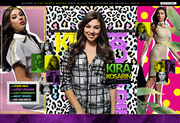 Hello again.I reopened my site again.Check for a new layout and to see more Kira's Photo.Follow me on instagram at @miranda.kira.michelle and ask about site and affiliates. Come and visit kirakosarin.sosugary.com.

Hello There!
We have a new design and a lot of new stuff: wordpress pro themes for free, design packages, CSS codes for wordpress and gportal sites, order etc.
Come and visit my site: AemyDesign
Thank you so much: Aemy
May this Easter fill you with hope and bring you joy, happiness and love. Happy Easter everybody!
Posted on: April 3, 2021 | Filed Under:
News
| Author: Staff
Flaunt Network wishes you Happy New Year 2021! Let the next year be much better than 2020 and let us all embrace a life without the pandemic, restrictions and lockdowns.
Happy New Year to you, your family, friends and loved ones. Enjoy the festivities!
Posted on: December 31, 2020 | Filed Under:
News
| Author: Staff
Flaunt Network would like to wish you all Merry Christmas! We wish you all the best this holiday season!
Posted on: December 25, 2020 | Filed Under:
News
| Author: Staff
Hello, everyone! Ester Exposito Fan is now online and available for you to visit! Make sure to follow us on Twitter to stay in touch with us. Look around and enjoy your stay at Ester Exposito Fan! We now have a brand new exclusive look for the main page, the gallery and even the mobile version!!!

Hi everyone! Aemy Design has a new look, please check it out.
I am offering you a FREE WordPress theme, Pro WordPress Theme, G-Portal Free Theme, etc. If you have any questions contact me.
Hi everyone ! On April 7, 2020 Lili Reinhart Online turned one year old. To celebrate, I created a new theme for the site and the gallery, feel free to check it out!
LILIREINHART.FR // LILIREINHART.FR/PHOTOS
PS: Affiliation requests are always open on Lili Reinhart Online so don't hesitate to send one.
We would like to wish you all a very Merry Christmas! May you spend this wonderful time with your loved ones. Here's wishing you joy, love and peace. Merry Christmas!
Jingle bells, jingle bells. Jingle all the way!
Oh what fun it is to ride in a one-horse open sleigh
Dashing through the snow in a one-horse open sleigh.
Over the fields we go, laughing all the way.
Bells on bob-tail ring, making spirits bright
What fun it is to ride and sing a sleighing song tonight.
Posted on: December 24, 2019 | Filed Under:
News
| Author: Staff