X23WORKSHOP.COM IS ACCEPTING FREE ORDERS!
** RULES: Give us a shout out via Twitter before ordering and after ordering.
Hi! The gallery of Portal Nicole has a brand new look! With 110,000 + HQ and MQ pictures. Check it out here!
Hello, Mochi-designs has a new look. We provide WordPress themes and Coppermine themes. To celebrate almost a year running. Mochi-designs has a new more colorful wordpress theme and a new Coppermine theme. Also, Orders are free for a limited time. If you are looking for a new theme feel free to view our portfolio and if you have any questions please don't hesitate to ask :)

Hey everybody!
My fansite is opened. I running it with my friend. Now, it is ready to show itself for you. Benedict Cumberbatch is a really, really talented actor. He played in the BBC SHERLOCK and Doctor Strange also his character. Your page can be our affilietes. It dosen't matter, that it's hungarian, france, german, spanish or anything, just write on my site's chatbox. Check it! ;)
XoXo; Alison

Hello everyone! TVDTO.com  is your new daily updated Fansite about The Vampire Diaries and its spin-off series The Originals. Here you can find every information, the latest news, videos, episodes AND much more! Visit the site's Gallery that has more than 1000 pictures already. I'm looking for affiliates as well so if you are interested please apply in the Chat. Make sure to follow the site for all the new updates.
I hope you enjoy your stay and come back soon!
Drea
Hello everyone !! Sarah Hyland France has a brand new layout, featuring one of the newest photoshoots of Sarah. Check it out and let us know what you think. SHYLAND.ORG

KELLY-ROHRBACH.US || GALLERY || TWITTER || CONTACT
Welcome to Kelly Rohrbach Daily, your 24/7 online and leading source dedicated to Kelly Rohrbach. Known for "Café Society", "Broad City" and "Baywatch", she will be star in "A Rainy Day in New York" shortly. Here you will find all you need to know about our idol including the largest picture gallery on the net, the latest news, videos and much more. Don't forget you can also find KRD on Twitter. Make sure to follow us for all the new updates. I hope you enjoy your stay and come back soon!
Hey Friends!
You know or not, we opened our website, nathaliekelley.us about the beautiful Nathalie Kelley which make together. She played Sybil on The Vampire Diaries, she played Neela in The Fast and the Furious: Tokyo Drift. And now she is Cristal Flores/Carrington in the CW's Dynasty.
And now, this site got a new design. If you want to be affiliates, just write us in the site's ChatBox. It doesn't matter, which is your site language. Check our Gallery also. We uploaded a lot of pictures.
XoXo: Alison & Fruzsi
Hi guys, your french source about the talented and beautiful Lucy Hale: LucyHaleFrance.net, has a new theme up in the main site and the gallery. We are also still looking for new affiliates, so if your interested please apply here. Enjoy our website! You can find us on Twitter: @LuyHaleFR_.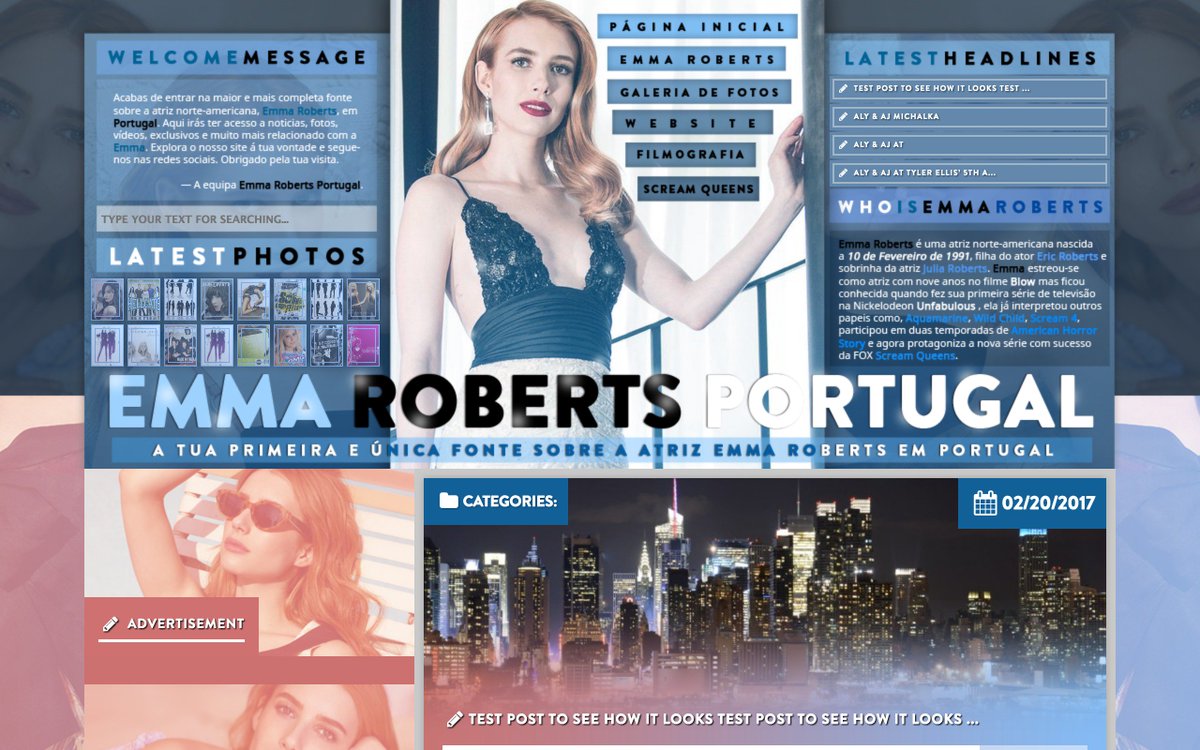 Emma Roberts Portugal, your first and only source about the talented actress Emma Roberts in Portugal, has a brand new layout on the site and photo gallery.
Both layouts were made by the talented designer ESTRELLA DESIGN, who i thank so much for the hard work and dedication in it.
I hope you guys enjoy these new layouts and feel free to check out anytime you want :)
EMMA ROBERTS PORTUGAL  PHOTO GALLERY TWITTER