Emily-Osment.us is now opened, your N.1 source about actress & singer Emily Jordan Osment (Lilly Truscott in Hannah Montana) in Spanish. Here we will provide you with the latest news, updates & photos of Emily. +500 photos on the PhotoGallery at the moment (More Coming Soon). If you don't understand Spanish, you can use Google Traductor too!
Don't forget to follow us on Twitter and Facebook to know more information and stay tuned!
Shay Mitchell Daily your new French fansite 24/7 entirely dedicated to the actress and model Shay Mitchell is now open. Feel free to apply for affiliates and follow us on Twitter. Thank you and we hope you'll visit Shay Mitchell Daily.


Hello there! The new Brittany Snow Spain has a new gallery layout! And with more +3,000 HQ photos that you'll love!
Feel free to follow the fansite on Twitter to see the gallery updates before anyone else!
Welcome to TheoJamesFranceactu.com, your french source about Theo James. Follow the latest news, career and visit the gallery (more than 9 900 pics). Gallery | Become affiliate.
SoSugary.com, a free photo gallery hosting, has recently joined Flaunt Network. So Sugary has been offering free webhosting of galleries since 2008. You can find there over 2,000 galleries with +5M celebrity photos. If you want to create a photo gallery about your celebrity, visit So Sugary. Do not forget to follow So Sugary at Twitter.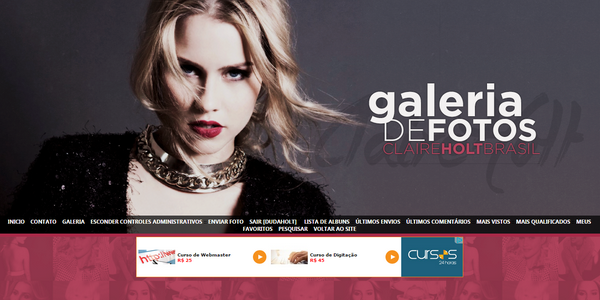 Come to see the best source of Claire Holt's pictures: CLAIRE HOLT BRASIL GALLERY. There are more than 22,000 pictures in 399 album and 89 categories. Visit: www.claireholt.com.br for Claire Holt's news – the best Latin American source of Claire Holt!
The Official Tokio Hotel Portuguese Fanclub (CFTH) is looking for new affiliates!
If you want to become one of our affiliates, apply here.
Don't forget to visit our website where you can find all the news about this german band. Also, check out our gallery which has over 14k pics. Enjoy!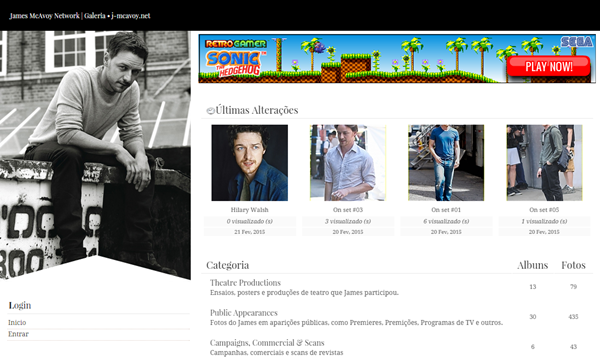 James McAvoy Network gallery is online! A part of the brazilian website James McAvoy Network, here you will find a lot of great pictures of the scottish actor James McAvoy. With a layout made by Cristina of Secret Smile Design, based on the main layout of the site, we have added more than 1,500 pics and it is waiting for more! Take a look and enjoy! http://j-mcavoy.net/galeria/
Your French source about Meghan Ory, has a new look for the site and the gallery.
The site is also looking for news affiliates ! So feel free to apply on the site or contact me on Twitter !
If you're brazilian and likes Willow Smith, you have to visit Willow Smith Brasil: the biggest news website about the actress and singer in the World. Find daily news, photos, videos, songs, prizes, special pages and much more on willowsmith.com.br
The website crew was created on 2011, when the 'Fireball' song came out and since it we've been watching Willow growning up and giving to you the hottest news about the little diva.
The website also include a Gallery with over 5.000 pictures of Willow Smith.
We are loking for affiliates! If you want to, send us a message with the subject "Affiliate" to sitewsbr@gmail.com